50 teachers and students were awarded with laptops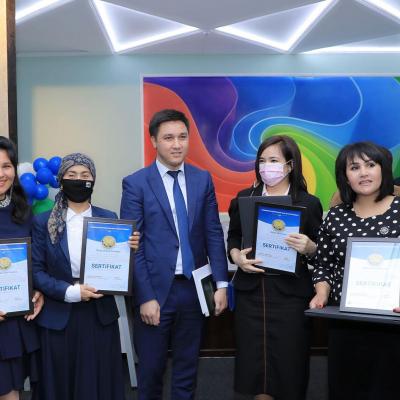 In early October, 15 teachers and students who actively participated in their selected courses on the Coursera educational platform were awarded with laptops.
This time, 50 active participants of international courses were awarded modern laptops for the number of certificates received the level of the courses' complexity and 100% participation.
Until today, about 13 thousand teachers and students of the public education system who registered on Coursera have been trained in about 60 thousand courses; have taken part in 250 lessons with a total duration of 130 thousand hours.
These are the winners from Navoi region - 14 people, Syrdarya region - 5, Bukhara, Khorezm regions and Tashkent - 4 people, etc.
For reference, during negotiations at the World Education Forum in London which took place in January 2020, an agreement was reached with Coursera to improve the access to this international online educational platform in Uzbekistan.
As a result, since June Coursera has provided courses for 50 thousand users: teachers, students and employees of the public education system of Uzbekistan.
If the monthly subscription cost per user is $50 on average, the cost of a 6-month subscription for 50 thousand users is $15 million (UZS 157.5 billion).
Prizes have been awarded at the expense of grant funds provided by the Swiss Embassy in Uzbekistan.
Contact us
You can send your suggestions, complaints or opinions using this form